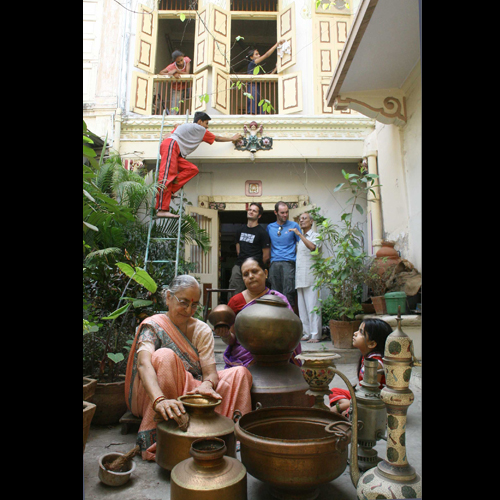 I was sitting on the sofa with my laptop, catching up on my latest social media notifications and stories, when my phone rang. With my eyes still fixed on my laptop, I stretched my hands to pick up the phone.
It started with the basic niceties of a typical call from close relative, without the slightest hint of how this routine call would drift to become the dreaded call of the season.
"Have you started off with the Diwali safai?"
"Hain", my eyes popped out and jaw dropped. Is it that time of the year again? So soon?
I placed a hand on my heart and said "All is well. All is well".
I had almost forgotten the call until that day. One of the whatsapp groups forwarded a pic displaying hundreds of gold bars, silver crockery , bundles of notes lying on the ground and a message saying that we have just started with the diwali clean up. And the idea of diwali cleaning came back to haunt me.
I had to come with a fake yet original answer quickly to satisfy all the soon-to-come calls of concerned family members, asking me the status of my "safai abhiyaan".
Diwali clean up is a serious social issue. The weaker sections of the society, not capable of spotting a single spider web, hint of dust behind the doors and aliens residing in the kitchen cabinets feel the sudden pressure from the maid-equipped, calendar minding and bragging sections of the society.
If you are brave, you might answer, "No, I shall not."
But the weak hearted like me, hide behind the excuses like, kids exam time, or we just moved in here, or we are about to move out of this house or I will start later because I am fast.
I know I need to be more creative and less repetitive. I want to rather say, "Why don't you ask the husband?" or "I'll do it when its off-season for the maids and they are relieved from other houses?" or maybe "The forecast says it will not be sunny this whole week, so why bother giving everything up in the sunshine?" or "By the time I finish the herculean task, the first thing I finished cleaning will be the same as it was when I started. Don't you think so?" or maybe "I finished everything already when the PM launched the Swachh Bharat Abhiyan. Under his mantra "Na gandgi karenge aur na karnedenge", my home is ever so clean."
You can dodge every question unless your mom is on the other end of the line. Every season, I tell her that you should ask me this question when there is enough time for me to finish what I start. And every season she answers that she was busy cleaning up and a homemaker should know better. I have to tell her the truth. I confess and beg her to come down after she has rushed up with hers. Maybe that's the reason she never tells me well in advance, or I'll make her come down to my place in real. I tell her it's hard. It's unfair for a single person to clean up what has been messed by the whole family. It's unending. Its cruel.
And she tells me all over again, how cleaning up will bring good luck. She tells me, how this is a way to clean up atleast once a year. And how it is a way to make sure you give up what you haven't used for the whole year. It's her way of telling me to go through all my stuff once and avoid pressing the panic button when something is to be quickly located.
Its remarkable how firm the roots of safai are in the hearts of moms and how they struggle and stumble in imbibing the same in their children every year.
Yet every next call that I get, the pressure mounts as the frequency of being asked and bragging gains momentum. Next month or two, feels just like the exam preparatory days in school. Remember those days when the smarter ones used to call to tease the hardworking yet slow ones.
"How much course have you finished yet, my dear" asks the one friend who enjoys others pain.
"I don't know yaar. I haven't touched most of it yet. And what ever I had finished seems like a new chapter to me now." I reply wiping my forehead and sit down as I lose the ground under me.
"Haha. You're funny. Don't worry you will be fine. Don't go by my standards", come the words that stabbing-friend for who this call is more like a stress buster and entertainment.
The only difference between now and then, is that I used to take the insult to heart and buckle up to work harder. But now, I think.
Happy Dussehra!